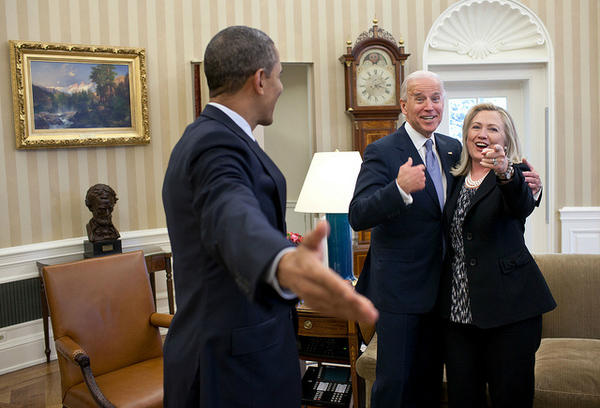 Whoever is behind the White House's "photo of the day" has a canny sense of timing. While Secretary of State Hillary Clinton has been hard to pin down over the last few months, she does make a featured appearance in today's selected snap, which usually focuses (literally) on the Narcissist-in-Chief.
So who do we have in this happy crew? The president, the man who complimented him as "the first mainstream African-American who is articulate and bright and clean and a nice-looking guy," and the woman whose supporters started the birther movement to discredit him. And just who are they laughing at? You!
Feel free to continue the caption contest below, but here's a winner to start things off.
"You want ME to go testify on Benghazi? No, YOU go testify on Benghazi!" http://t.co/iF8U8kac—
(@jdonels) January 05, 2013